Nowadays, almost everybody has a Facebook account. Over 500 million people are using this social network from computers, tablets, and any kind of device. Almost a 50% of Facebook users are logged in into the network at least once a day for 15 minutes. That's one of the main reasons why Facebook is an excellent place to advertise your business and its services.
Also, apart from being a way of advertise a business, it's also a direct channel of communication, and that helps you to have a clear idea of how the consumers of a brand are, and knowing that, look for ways to offer even better services to your potential customers or clients.
Recently, Facebook's advertising platform has experienced quite a lot of changes during a short period of time, from changes in standard image sizes to a complete design change of the advertising tool itself – so there are a lot of changes to learn about! But the truth is that all those changes are very useful from the advertisers point of view, especially because they are helping to create more efficient campaign and ads, and help to optimise them accordingly.
Ways to promote via Facebook
There are many ways to promote a company or a service in Facebook (there are even premium options for the biggest brands), but in general the most common ones are the following: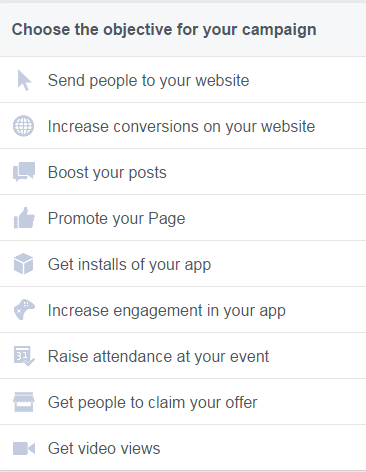 Ads:

 

This is the most common one. Since Facebook made its last changes to the platform, you can now select your objectives at the very beginning of the process, like so:
And depending on what you select, the budget will be optimising for reaching the best results. We can use the ads for driving traffic to a website, increase the amount of fans in a fan page, get conversions, and you can pay for these by CPC (cost per click) or CPM (cost per mille). You just need to establish a daily budget, and the platform will recommend you a bid. If you want to generate traffic to a site, the best option will be CPC; whereas if you are looking for brand awareness, the best will probably be CPM.For the regular ads, you can also promote an app, directing the ads to the URL of the app.
 Sponsored stories:

 

These are the little ads you can see when someone interacts with a fan page. This little advert is shown to the friends of the person interacting with the page, and recommends the fan page, with the final objective of turning the friends into fellow fans.
Promotional posts:

 

This tool allows you to promote the posts of the wall, but in this case, you don't pay per click or per number of impressions, but for the audience reached. This promotion can only last for 3 days.
Offers & Promotions:

 

You have the option of promote a special offer or coupon of your company. Once more you pay for the reached audience, but in this case, you can add a start and end date, a link where you can download or use the promotion and the terms and conditions of the promotion, to make sure that everybody is aware of how to take advantage of the promotion.
Events:

 

This is a free way to promote through Facebook, as you don't have to pay to create an event page. When you create an open event, and the users interact with it, they will get an automatic update on their news feed, so other people will see that. While this is not as effective as regular ads, it can be a path to viral reach and visibility.
Segmentation, segmentation, segmentation
If there is one thing that makes Facebook advertising really useful and gives an advantage over other advertising platforms, it is the segmentation. In fact, when creating a regular ad there are many ways to segment the campaign that will help you to reach just the target group you are looking for.
Apart from the traditional division of gender and age, country, city and age, we can choose between interests, social status, studies, and many other things.
First of all, we can choose between specific interests of our target. For example, if we are selling a product for cats, we can select specifically people who are interested in cats. If we don't want to get quite so specific, we can also select the interests from the broad categories – which can also become very specific.
Then we find the "connections" options – basically, this means who or what our target group is linked with. For example, if we are selling a product that is something that one of our competitors is selling at a higher price, we can select to target the ads only to the current followers of the competitor's fan page. If we are trying to reach new fans, we should select the option of directing the ads to the people who is not connected to the fan page already.
There is another way of targeting: the relationship status and the "interest in" (referring to men, women or all), and also the level of education: we can address ads to people who has been already been in uni (really useful for post-graduate courses and this kind of products).
Once you have create the ads, they will appear on Facebook on the right column or in the news feed (depending on the options selected at the beginning) and they'll look like this: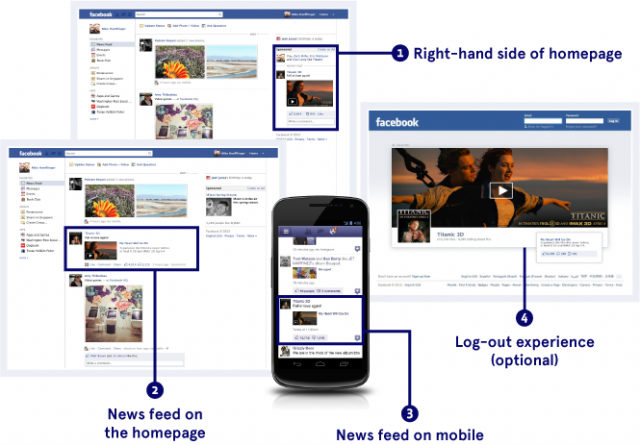 Et voila!
In summation, Facebook advertising is social in terms of sharing and in terms of finding your audience through careful market segmentation. The personal information that Facebook collects makes it a power platform in allowing you to whittle down the market to those who will have the most interest in your product or service.
Got any questions about Facebook advertising? Get in touch!
What have been your favourite discoveries about the Facebook advertising platform?