This started off planned as a single blog post but quickly spiraled into a 6,000+ word manual for identifying  removing and disavowing bad links. We've split it up into three parts to make it more digestible and we'll publish them over the next few weeks. You can find the first part here and the second part here. Today we'll look at how to submit disavows to Google Webmaster Tools for any links you couldn't get removed and when you should also consider a submitting a reconsideration request.
Disavowing Links
Once you've exhausted your options for contacting sites and given them sufficient time to get back in touch it's time to deal with the non-responders and uncontactables. At this point, you've hopefully removed a large portion of your bad links, but depending on just what sort of link development was done to your site in the past there's probably still quite a few bad links left. Whether it's from sites which you couldn't find the contact details for or sites where the only hasn't responded for whatever reason.
Enter the disavow tool. The disavow tool effectively allows you to tell Google about any links which you don't want to have counted towards your site. The subject of much confusion and disinformation, it really is as simple as that. Any links you add to this will effectively cause them to be ignored by Google for ranking purposes similar to if they had been set to no-follow. This means that any negative as well as positive influence they may have had on your rankings will be removed.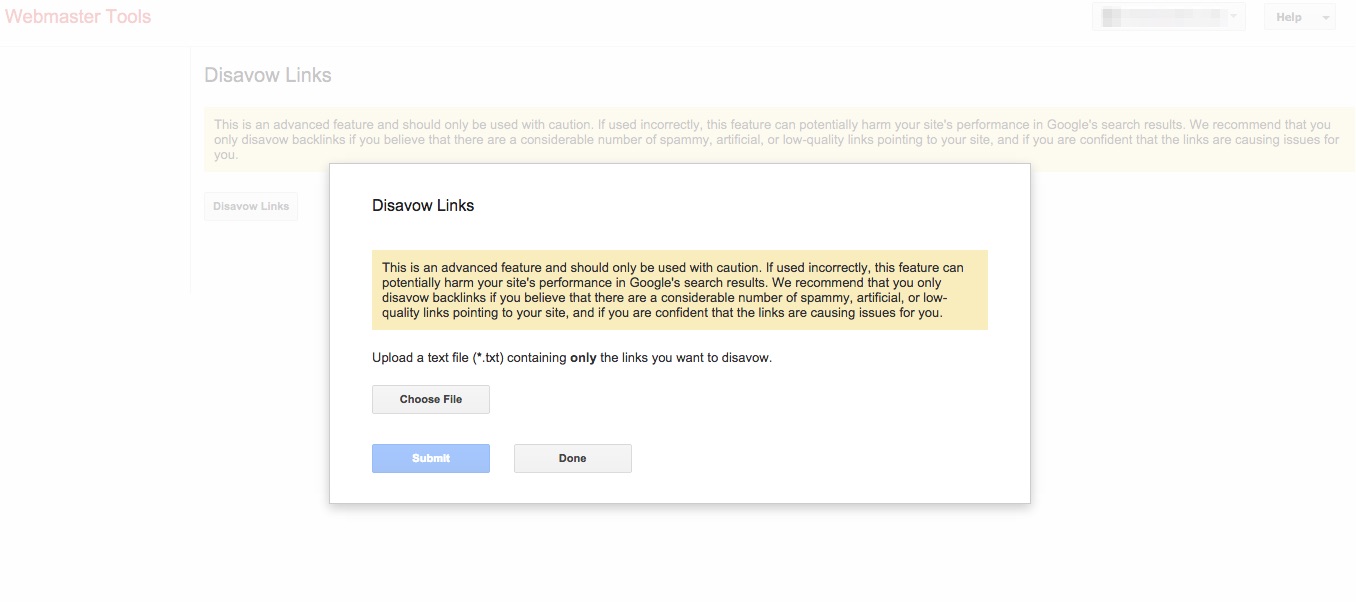 Using the disavow tool is actually pretty simple and straightforward. You upload a list of links to pages or domains you want to disavow along with any comments and then Google handles the rest. It's simplicity can lead to problems, however, and when you log in to the disavow tool it will display stern warnings about the possible harm improper use could cause. The real harm is fairly obvious; disavowing good links which are helping your site to rank would negatively impact your rankings. However, if you've followed the previous articles in this series and correctly identified genuinely bad links to your site then you shouldn't have to fear using the disavow tool.
It's worth noting as well that you can 'undo' disavowed links. Once the file has been uploaded you can download it, remove links that you don't want disavowed anymore and resubmit it. However, Google does warn that un-disavowing links can take a lot longer than the initial disavow process and they presumably don't want webmasters constantly adding and removing links from their list.
Formatting a Disavow File
The disavow file is a simple Text file which you can create in Notepad or similar text editing programs. The file just needs to contain a list of URLs which you want to disavow links from along with any comments (marked by a '#' before them).
You should use the comments to note things such as why you're disavowing them, what sort of links they are and especially what efforts were made to remove them and why they weren't removed (eg no response from webmaster, refused to remove, demanded money to remove).
You should add one URL per line. The URL should be of the domain or page which links to your site, not URLs of your own site (I have no idea what would happen if you tried disavowing your own domain, but suffice to say it would be a silly thing to do). You don't need to include any extra information such as anchor text or the page their link points to.
You can disavow an entire domain if you want to disavow all the links coming from that site or specific URLs if you want to disavow individual links. To disavow a domain, you put "domain:" in front of the URL of the homepage, to disavow a single page you just put the URL of that page (this can also be the homepage if that is where the offending link is).
Matt Cutts has advised that webmasters should use the disavow tool as 'a sledgehammer, not a scalpel', explaining that too many people are trying to surgically disavow links by specifying specific URLs when they would be better off in may instances disavowing the entire domain.
Our advice and approach is to use the domain: operator in instances where you have:
A sitewide link
A link that is getting replicated on multiple pages such as on a directory with multiple categories or a forum signature
A link on a site which is particularly nasty and you want to be sure that you are disavowing any and all links coming from it.
And to use the page-specific URL when you know that the link is only on a single page on the site, such as a paid blog post.
However, as we're a pretty cautious bunch, when using the domain level disavow, we often also include specific pages where we know the links are located.
For instance, if the link is coming from a large directory, we may disavow any specific pages where we've found links and, in case there are links on the domain we might have missed, also nuke the entire site from orbit (it's the only way to be sure). This is mainly a precautionary approach as it's unclear how Google goes about disavowing individual links.
Following is an example of how a disavow file should be formatted:
# Appears to be automated forum profile spam on these domains. Site owners were
contacted on 30/03/2013 but no response

domain:forum.example.com
domain:anotherforum.example.com
http://forum.example.com/members/FakeName
http://anotherforum.example.com/members/FakeName
# Sitewide link on this site. Contacted owner but demanded $220 to remove link
domain:exampleblog.com
# Spammy post, looks like part of a link selling network. Was unable to find any
contact information
http://www.linknetworkblog.com/how-to-make-spam-posts
Reconsideration Requests
Reconsideration requests are the next step up from a disavow. Reconsideration requests are really only necessary if your site has received a confirmed penalty. Reconsideration requests do not need to be done as part of the disavow process. The disavow process will still work to fix any negative impact bad links are causing to your site unless the domain has received a penalty. Situations where you don't need to do a reconsideration request include:
If you're doing link clean up and disavowing links pre-emptively before your site has received any negative impact from them
If you are cleaning up links because your site has suddenly started performing less well in organic search but doesn't appear to have actually suffered a manual penalty
Situations where you probably do need to file a reconsideration request would include:
If you have received suspicious link warnings which have corresponded with large drops in rankings and/or organic search traffic.
If your site has been completely de-indexed from Google and you have confirmed that it is not a technical error (such as the site being inaccessible to Google or a canonical tag error).
How To Submit A Reconsideration Request
If you've already done the work of cleaning up your link profile then you're in a good place to submit a reconsideration request. However, before you do, you should also check that there is nothing else which may have caused your site to receive a penalty. Links being all the rage, if a site is penalised most SEOs immediately assume links are the suspect, but there may be other issues at hand. A site can be penalised for violating any of the Google guidelines and so there could be other on-site issues such as cloaking which Google doesn't like.
Once you have checked, discovered and fixed any potential guidelines violations associated with your site then you're ready to submit a reconsideration request. The key to a successful reconsideration request is remorse! You need to acknowledge:
Any violations of Google's guidelines associated with your site
What actions have been taken to fix them
Any SEO agencies associated with the work (Yes, Google wants you to throw your SEO under a bus if they were responsible for the violations, but do us good SEOs a favour and acknowledge if an agency has helped to fix the site as well!)
Any problems which you think the domain may have had prior to you acquiring it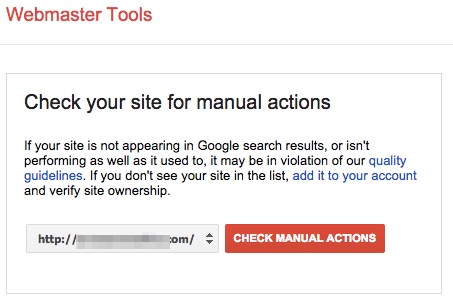 If links were a major issue, then it would also be a good idea to mention that you have submitted a disavow file as well. To help with the process you could also upload your spreadsheet which you used to record all of your link removal efforts as further evidence of the work you've undertaken to fix your link profile.
Assessing Results
Once you have completed removing links, submitting a disavow file and making a reconsideration request if it was necessary you should monitor the results of your efforts. You should make a note of any milestones – eg when links where successfully removed, when the disavow file was submitted – and then watch for any improvements in organic traffic. If you've successfully eliminated enough of your bad links then you should hopefully see a reversal in any negative impact they were causing. This may take some time of course, old links are going to linger in the index and it may take some time for Google to recrawl pages where your links used to be and to process the disavow file.
You should also be mindful of the fact that simply removing links isn't going to automatically make you perform better in organic search. Link removal should ideally go hand-in-hand with a solid content strategy to help shore up areas where your site has been under-performing and earn new, better links from trusted sources.