Here at Serps we're trying to attend conferences and events regularly, not only to stay ahead of the game but also to exchange ourselves with other professionals in the field. This year, I've embarked on my very first all Content related event, Confab Europe in Barcelona.
I thought, I would share with you some of the my personal highlights from the conference.
Kate Kenyon on Bringing new Content Thinking to Old-world Organisations
Kate explains how working with established organisations, such as banks, can be rather constricting, due to compliance and legal sign off requirements, however there are countless opportunities for content strategists.  During her talk she explains how to best avoid issues with clear guidelines. Kate was nice enough to summarise her own talk here. Thanks, Kate!
Follow Kate Kenyon on Twitter @kate_kenyon  or read her blog http://www.whipsmartcontent.com
Ray Gallon's Talk on Good content, good strategy, good business  inspired me a lot and Gallon really captured the need for incorporating a content strategy in the overall website content and user journey. His view is if a consumer knows that your content comes from the training department, than it's bad. "Moving between product use and marketing should be like moving from the kitchen to the living room. The same house" as per Ray Gallon. My favourite quote was "Consistency is better than rare moments of greatness." Marli Mesibov live blogged the whole talk on her blog.  Thanks, Marli.
Check out Ray Gallon's slides from the talk here:
Follow Ray Gallon on Twitter @raygallon
How to make your content flow: Content strategy for smart content
My personal favourite at Confab 2014 was the talk by the two German content gurus Theresa Grotendorst and Ute Klingelhöfer. Their focus was all around making one content piece work smarter, rather than creating lots of different content types for different devices. Schema.org, semantics should be implemented in order to structure content better, so it can be better understood by machines and be therefore more adaptable for our ever-changing needs. Check out their slides here.
Follow Theresa Grotendorst on Twitter @2welten  and Ute Klingelhöfer @contentwerk
Extreme puzzling: Content strategy and corporates
I enjoyed Sam's talk where she openly shared all the good experiences of being a content strategist in a large retail company in South Africa over a 3 year period. Sam also shared a few challenges and what she feels could have been implemented better or could still be done better. I really liked her comment "A website is like your kitchen, you never stop cleaning up".
Wilson also talked about about difficulties and opportunities between different departments i.e. Marketing and Online, which was very refreshing and honest.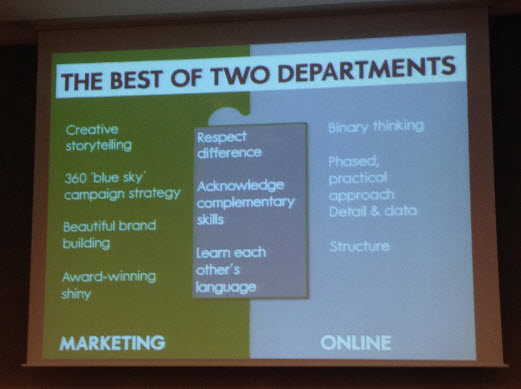 Marli took some great notes here. Thanks again, Marli!
Follow Sam Wilson on Twitter  @SamWilson1
Speaking with one voice: How to develop a distinctive voice
Bredenkamp spoke in detail about giving your content team guidance, not just training. Many corporations fail by creating personas that are unusable. His example was "How do you write for a golfer?" Good question, right? His main point was really that companies need to ensure that their tone and voice guidelines are actually actionable.
Check out Andrew's slides here.
Follow Andrew Bredenkamp on Twitter here @abredenkamp
I really enjoyed Confab 2014. The talks were diverse and it helped me think a bit differently about content strategy for our client base. Lots of actionable learnings that I will be able to share with the team. The conference itself was really well organised. I only wish that we had 2 people from Serps attend, so we could have been able to cover all sessions. I am already looking forward to Confab Europe 2015!
Image source Wikipedia